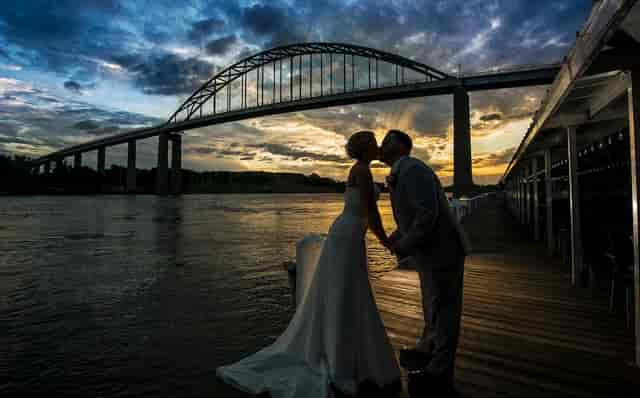 The perfect venue to host your next event! Guests will enjoy a waterfront backdrop overlooking the scenic C&D Canal!
Schaefer's Banquets is ready to host your next event!
Hosting your event couldn't be easier! We are at the ready to make your special day happen. Whether outside on our spacious patio or inside our scenic and cozy ballroom, Schaefer's is an excellent venue for your private event. Nothing makes us happier then to see a newly wed couple share their special day with us. From casual to glamorous, small to large, outside or inside, we have you covered! We are here to help you through your entire event, start to finish. Schaefer's banquets can deliver that waterfront theme with top quality views and enriching atmosphere. We are also able to accommodate a small specific food menu or a full scale catered event. 

Inside our ballroom, Schaefer's is able to hold large corporate events, association meetings, wedding receptions, and much more! With space to comfortably accommodate over 200 guests, our venue is sure to be your ideal location. In addition to the view and the space we have an experienced staff willing to show your guests a marvelous time. When booking an event with us, we want you to ask us as many questions as possible because our goal is to have your party absolutely exceptional time. Let's get this party started, call TODAY!
Reservation Information
There is a lot to go over when planning an event. We understand the stress can be overwhelming when hosting an event that is why the Schaefer's banquets team is here to help. Our team has extensive experience in the catering, hospitality, and banquet industry. Angie Rutherford, Banquet Director and Sandy Hines, Assistant Banquet Director will leave no stone unturned when discussing your event. Schaefer's venue is setup to have amazing views and ample space for all types of events. We look forward to hosting your next event with us!

Schaefer's banquet hall is able to accommodate smaller parties as well. From a corporate meeting or a family reunion, Schaefer's banquets is a perfect waterfront venue for you! Our banquet room has partitions to enable us to split the room for a more intimate setting. Our staff is at the ready to help make your event perfect!
Schedule time to talk with our professional team
Angie Rutherford, Manager
Sandy Hines, Assistant Manager
ballroom@schaeferscanalhouse.com
410-885-7200