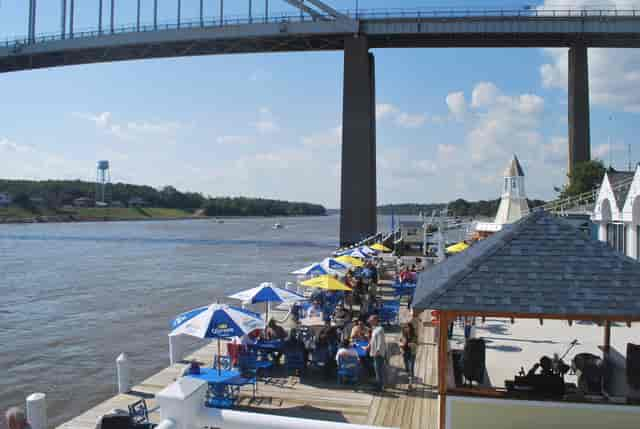 Deck
The Famous Lighthouse Bar of the Chesapeake Bay
Easily one of the most beautiful regions of the country, the Chesapeake Bay brings in visitors from all around the world for the incredible fishing, old world atmosphere and to just relax and watch Mother Nature paint her masterpiece. The locals understand that the best place to hang out with friends and family for dinner or drinks is Schaefer's Canal House in Chesapeake City. With convenient dock and marina, Schaefer's dishes up the area's freshest seafood and mouthwatering steaks, all generously seasoned with fun. 

One of the great features of Schaefer's Canal House are all of the fantastic live music and events. Nothing helps the digestion of some tasty crab cakes quite like the funky Jamaican party sounds of Island Vibes, or the classic rhythm and blues of The Larry Tucker Band. Click here to check out our events section and be sure to visit regularly to see when your favorite local band is playing, and don't forget to show up early to get your seat up front! The deck at Schaefers has plenty of room to move around, dance, or sneak away for a private conversation. With close to 1/8 of a mile of dock on the property you can go for a walk with your date to stretch your legs and capture an intimate sunset
It's time for the main event... Schaefer's Lighthouse Bar..
You came to the right spot if you are looking to relax and watch the sun go down... Oh yeah and have amazing drinks with LIVE entertainment! As you can see we have a very calming atmosphere here at Schaefer's. Our bartenders are ready to get the drinks flowing every week out on our patio! 

Our drink menu is setup completely to have you kick back and enjoy the fact that Summer is here..! There is so much going on here we need more then just one webpage. If you are looking for one of the best locations to enjoy Maryland then come on down and take in the energy here at the Lighthouse Bar! While you are at the Lighthouse Bar you will be able to see tons of commercial and private yachts, ships, tugs, and even the occasional pirate ship! Mega yachts of all size frequently pass through the canal during the spring and summer months which you can see right from our deck or bar area. As waterfront bars go in Maryland, Schaefer's Lighthouse Bar, ranks at the top for some of the best sunsets you will find in the state.
The Pavilion at Schaefer's... One step closer to the canal...!!
Located on the lower level on the deck is our pavilion. This area is completed shaded from the summer sun with a fixed roof overhead. We are able to very easily and conveniently seat guests from a private party to a corporate outing outside. When you visit us at Schaefer's especially outside, there is always a southern breeze that sends the warm air up from the Chesapeake Bay. 

A light tranquil breeze on a hot summer day with a cold drink from our Lighthouse Bar. Can't get any better than that! We would be thrilled to host a private outing or even your wedding dockside at Schaefers. Guests sitting outside have a front row seat when our overnight boaters stop by to visit us. The C&D canal has approximately 30,000 commercial vessels annually who frequent the area. While you are enjoying your meal with us be sure to visit our ship tracking page to learn more about the tugs and ships coming through! 

Once we open up the deck for the season around Mid April we invite you to stop down and take in some of our daily specials or our signature crab cake dishes. Occasionally we do have events at the marina during the season ranging from tours on the Kalmar Nyckel Pirate Ship or Dealer Days from some of the local boat brokers, and even cruise rides with M/V Bay Breeze Boat Cruises! There is always something to do or see when you are dining with us at Schaefer's. Be sure to check our events for band and entertainment schedules for the season!